Born to Rule
God tells us in the Bible that we are to become future rulers with Him in His coming Kingdom (Revelation 1:5-6, NKJV). But, what does it take to be a ruler? What kind of rulers does God want us to become?
Well, just like the rulers that people use as a straight edge, we are to become spiritual rulers who walk the "straight" and narrow path (Matthew 7:13-14). Instead of bending the rules, we should "measure" up to God's laws of love and justice. By our example, we can set the standard of excellence for others.
Following God's high moral values with selfless love and humble service is not always easy. But, servants with these qualities are on the cutting "edge" of leadership (Matthew 20:25-28).
So stand up tall and "stick" your "foot" out on the path towards God's future Kingdom. You were born to be rulers!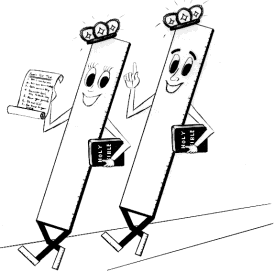 Two "rulers" walking the straight and narrow path.





To learn more about the qualities
of a good ruler, try out the
Kingdom of God - Word Search